Share The GOOD NEWS of JESUS.
In a world of so much change and uncertainty,
THERE IS A MESSAGE OF REAL HOPE!
True stories of Lives Transformed
Through Faith IN JESUS CHRIST.
We imagine a world in which EVERY PERSON
has the opportunity  to hear about Jesus Christ.
Share Eternal Hope Through Jesus Christ
HOW? Challenge News is a simple tool to help you get started to "gossip the Gospel". Place a paper into the hands of someone who needs to hear or send it where you cannot go.
Testimonies of Changed Lives.

Good News Stories

Helpful Life Tips
     Written especially for the "unchurched".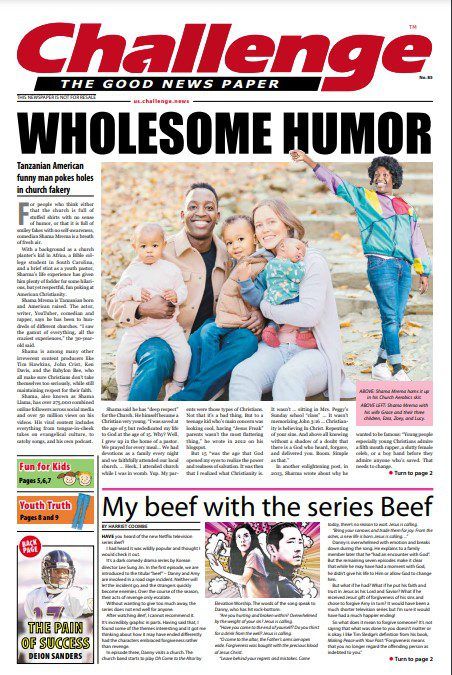 Challenge News is a Non-denominational ministry which started in Perth, Australia, over 30 years ago.
Our Mission is to share the good news of Jesus Christ through testimonies of faith.
Challenge exists to equip Christians to easily share the Gospel with others through a newspaper (in print or online).
The paper is full of personal testimonies, helpful tools and good news.
As a global ministry, our main hub is in Perth, Australia. Although we have ministry offices in the USA and South Africa, our reach is global and we print papers in various languages and countries.
Now more than ever,
people need a message of HOPE!
As Christians, we have an incredible Gift to offer to others,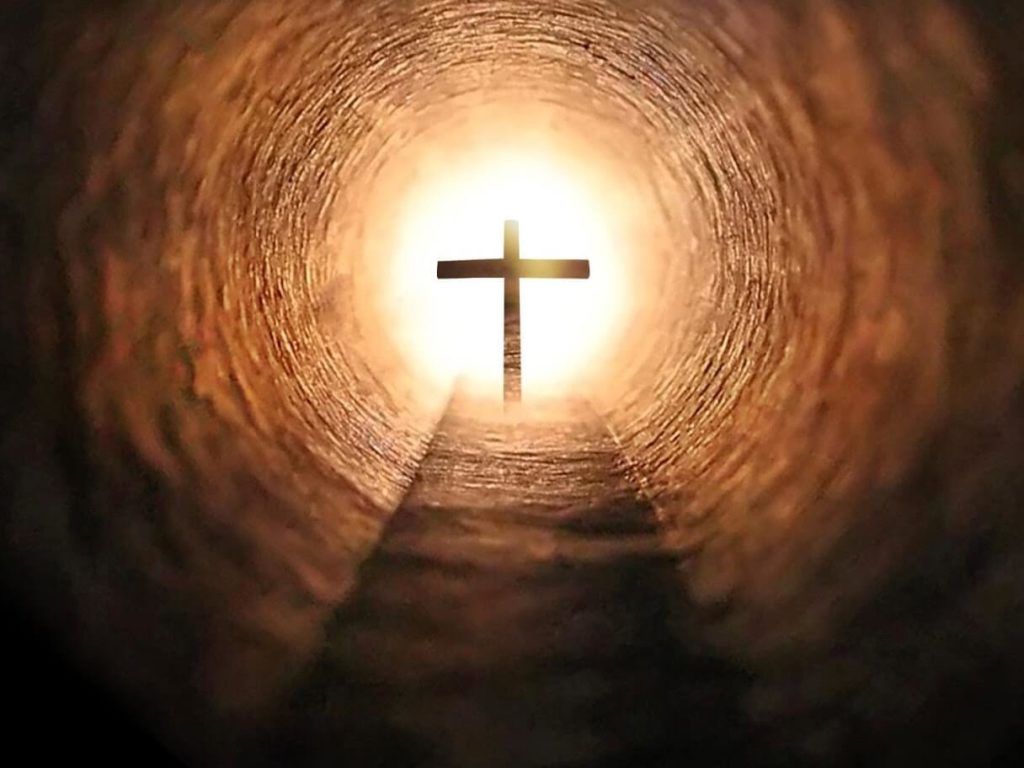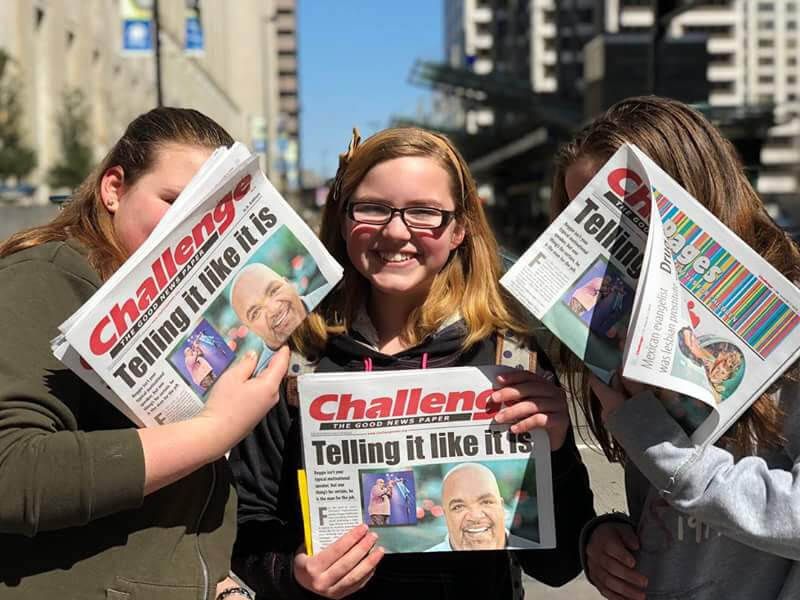 Less than 10% of Christians share their faith.
Most don't know how to get started.
Fear and guilt paralyse some.
Challenge helps overcome the barriers of
how to start
and what to say 
Simply hand the paper to someone, add it to gifts or food boxes, leave it in waiting rooms.
Challenge News has been created to help Christians share the good news of Jesus,
AND the opportunity to experience the incredible joy of seeing someone accept Christ.
To Learn More ... Watch This Video.
Find out how we are helping Christians and Churches to impact their Communities.
Ready To Impact Your Community?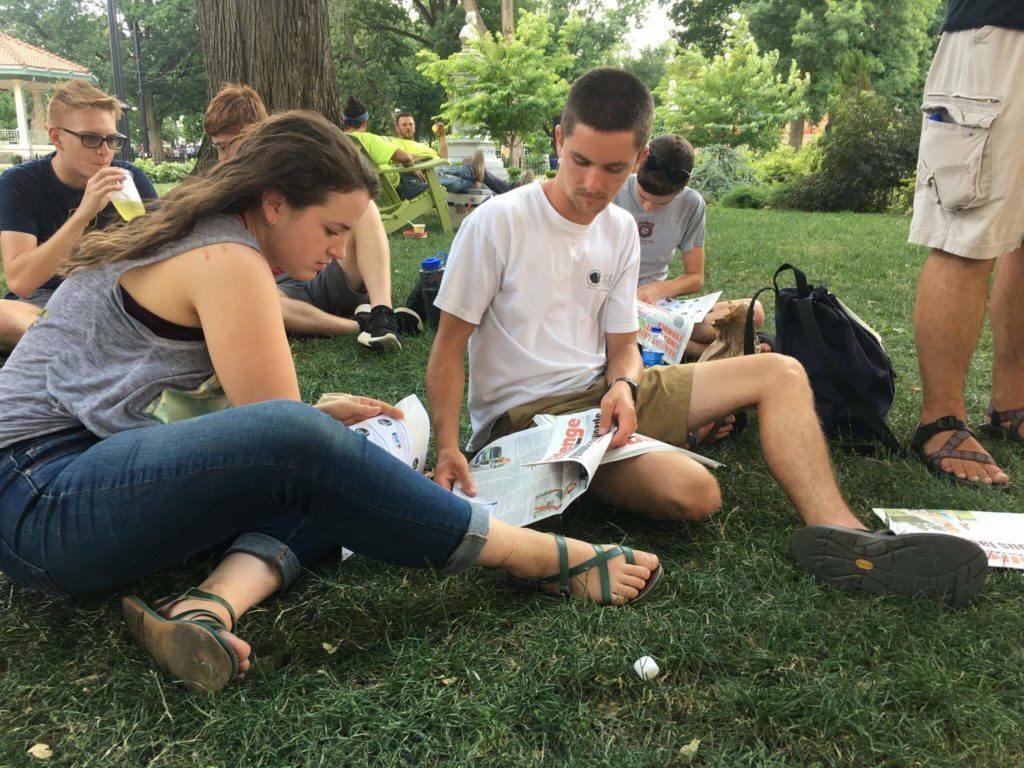 Want help to share your faith?
We can help you to clearly share about Jesus Christ and His plan of salvation for all people.
By providing a high quality tool that goes where you cannot go, and shares what you cannot say.
Challenge has true stories of how Jesus changes lives that you can share with others, opening doors for you to share your own faith with those you care about.
We partner with you 
whether you are a .....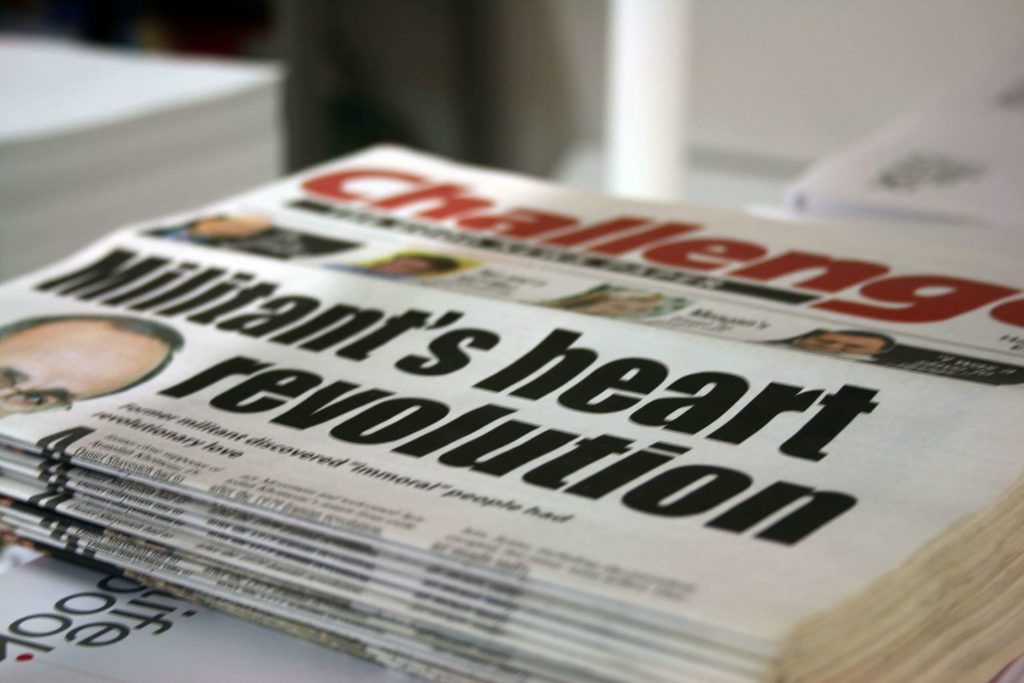 The best way to tell you of Challenge Newspaper's effectiveness is by testimonies.
Below are a few quotes from Challenge users.
• I had the privilege to lead my mom, aged
83, to Christ. She thought Jesus was just a
legend, until she read about people's personal
experience of Jesus Christ in the Challenge
newspaper.
• Our church went from using 20 papers to 1000 papers every month simply by placing a Challenge Stand in two local shops.
• Our church which is in a mining town thought that 40 newspapers would be more than adequate ... we were amazed to find 400 per month is still not enough.
• Our church delivered 550 papers to homes every three months and then followed up. When asked, 530 people requested to continue
receiving the newspaper.
"If you are looking for a tool to enhance your evangelism efforts in your local context, this could be exactly what you are looking for. It's a great reflection of the gospel that tells true, life changing and life touching stories. Couldn't you find a place for it in your evangelism platform?"
Jack Helton , Ohio State Evangelism Director
"The Challenge Good News Paper, Prison Edition, is like the Yellow Pages —in that it does the walking for us. We may not be able to get into every prison, however, the Good News paper gets into every prison, every cell, and ultimately every heart. We are impacting one of the least reached people groups."
Pastor Willy Dengler, World Hope
"If you are looking for a tool to enhance your evangelism efforts in your local context, this could be exactly what you are looking for. It's a great reflection of the gospel that tells true, life changing and life touching stories. Couldn't you find a place for it in your evangelism platform?"
Pastor Will Herndon, Argentina
Hear What Others Have To Say
Tom Pendergrass, Urbancrest at Lebanon, Ohio
"I'm writing to you today as the Senior Pastor of Urbancrest at Lebanon and as a disciple of Christ who looks at the overwhelming number of unsaved people all around me. Challenge The Good News Paper can help your congregation reach your community in a unique way that is biblical, relevant and affordable, the same way it is helping churches across the United States and in Australia, New Zealand, Africa and South America."
From A Prisoner
"As I look into the mirror I find a stained image. One who has spent many a moon in his own bondage  as you can tell by the return address. I needed to tell you what your newspaper has meant to me. To say this will cause me to drop a few points in my "gangsta" hood, but so be it. Reading what so many souls were saying about God well, it seemed as if I could hear them speaking into my soul. It made me wonder if there is life or hope for someone like me. I don't deserve it as I've left nothing in my wake but heartache and pain. My only claim to fame-crime. I have wasted 40 years of my life. You have taken a harden man and given him hope. Your newspaper has made a difference in at least one life. You've given me sunshine where there was once so much darkness. I am not asking for you to feel my pain but simply to remember my chains." - Prisoner D. in Alabama
From A Chaplain
"I received the Challenge News Paper today. Without a doubt it is one of the best new papers that I  have received at this Chapel. It is well written and gives inmate's activities which they enjoy and need. Thank you for sending it and please send it to us on a regular basis."
 Alan "Bo" Hammock, Senior Chaplain                            Suwannee C.I. Annex
From Pastors
"We distributed copies of the paper to Peace Makers Fellowship church and at Kolweny Market. We had distributed 8,000 copies within less than an hour. People rushed to get the paper. They came on motorbikes, bikes and on foot just to get a copy. We bless the Lord as many people have called us just to testify how the paper has blessed them." - Pastor Paul Dondoh in Nyakatch, Kenya
From Families
"I took my daughters for ice-cream. We placed a couple pf papers on tables then sat back and watched people pick them up to read them. I am not confident in sharing my faith but we were so excited to see how we could share the paper so easily and people could hear about Jesus." - Joel, Everyday Dad
Help grow a movement of believers sharing hope in a seemingly hopeless world.
Christians, churches, ministries and businesses who WANT to IMPACT THEIR COMMUNITIES   with the POWER OF THE GOSPEL.
"And this gospel of the kingdom will be preached in all the world as a witness to all nations, and then the end will come." Mt 24:14

Read Our Blog
Access Resources
Talk To Someone
Share A Testimony